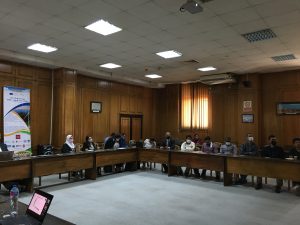 On 08/09/2021, WESET partners in Egypt held a successfully conference in Cairo.
Discussions about the main outcomes of this 4 years of WESET were shared with the Wind Energy sector in the country as well as there was time to identify possibilities of further cooperation and establish new connections beyond WESET timeline.
As conclusion, the bullet points identified during the workshop were:
Future of Egypt's energy strategy and energy market structure: clarity of the pipeline/plans of new projects, and of the electricity market structure (auctioning, FIT, storage models, etc) are key to maintain and attract investments in this sector. Clarity would also attract competitiveness and transparency and would ensure the best value for the national utility.
Legislation I: processes involved in land use, licencing and wheeling need to be improved and made more straightforward so that more local and FD investments thrive. A clear structure of BOO schemes for the private-to-private setup would help boost renewable energy projects, and lower carbon emissions of key target sectors.
Legislation II: small scale wind opens great possibilities for local value chain development (design, manufacturing, jobs, etc); and for increased uptake of wind power. However, their use needs to be supported by a grid-code and legislations governing their licencing, and grid tie-in. Issues of certification and reliability of small-scale wind need to be addressed and sponsored by Egypt's Electricity Regulatory Authority.
Wind and the utility grid: while wind potential is promising is Egypt, attractive wind power development sites are currently known to be concentrated in particular areas. An increased on-grid generation of wind (inherently intermittent resource) at concentrated areas will lead to a costlier transmission facilities, and add a technical burden on the grid operator. A near-by storage facility, or off-grid applications, will indeed help expand far more investments in Egypt's onshore wind power.
A more industry-relevant education will increase confidence in renewables, and will help create high value jobs for Egypt's wind power sector.